Big Wow Comic Fest Auction Announcement
Charlie Adlard & Stefano Gaudiano Big Wow Comic Fest Live Auction News
Artist of The Walking Dead, Charlie Adlard and his inker, Stefano are contributing a double page spread from the yet to be released issue 127 to the Big Wow Art Auction. The image will be available when the issue comes out Wednesday, May 14th on the Big Wow Auction page.

In addition to this great piece of Walking Dead art, Charlie has agreed to offer up a sketch into the live auction that he will complete on Sunday May 18 at Big Wow. This up to 2 character sketch will be the only time during the show that he'd be willing to "Zombify" the auction winner/couple. We'll take a picture of the person/couple that wins the auction and Charlie will draw them as zombies. Charlie will be donating his share of the piece to CBLDF and Hero Initiative.

Come to the exhibit hall museum gallery to place your blind bids on these pieces and join us in panel room B on Saturday night at 6:30PM to win one of these great pieces!
Big Wow Comic Fest Convention Announcement:
Splash Page will be setting up with Charlie Adlard, Stefano Gaudiano, Michael Lark and Greg Rucka & Ken Kristensen at the Big Wow Comic Fest in San Jose, CA on May 17 & 18. I will have original art from Charlie & Michael at the show, but if there is anything else you want to make it to the show, please email me ASAP.
Michael Lark artist of Lazarus, Daredevil, Gotham Central & much more is taking a limited number of sketches ahead of his appearance at Big Wow. This way he can start on them at home in his studio.
Convention commissions:
9 x 12" 1 character 3/4 figure or bust - no background $150
11 x 14" 1 character 3/4 figure no background $250
Please email us here if you want to secure your commission.
Charlie Adlard, artist of the Walking Dead, will be taking a very limited number of convention sketches at Big Wow. Both Saturday & Sunday we will pass out raffle tickets to people wanting to commission a $300 sketch from Charlie, and we will choose a handful each day randomly. Payment will be requested and those selected may wait for Charlie to draw their chosen character or zombie for them.
These are 1 character 11 x 14" pieces on bristol board or blank sketch cover comics (you must provide your own comic).
Stefano Gaudiano will be accepting 11 x 17" convention commissions at the show for $150. We will take a first come first serve list each day at opening.
Get your guest information & tickets here: http://www.bigwowcomicfest.com/
Big Wow Original Art Auction Details:
I will be running the blind and live original art auction on Saturday night, May 17th. The blind auction will run throughout the day in the art gallery in the back of the hall, and will wrap up at 5:30PM Interested parties must sign up for a bidder/paddle number and then can begin placing blind bids on the art they are interested in.
Art that does not receive 3 bids will sell for the highest offer at 5:30PM, and ones that do get at least 3 bids will be placed in the live auction that begins at 6:30PM in convention hall room B. Writer, Ken Kristensen, will be helping me emcee the auction so if you are a Todd, the Ugliest Kid on Earth fan, this will be a fun chance to hang out with Ken and hopefully buy some art! There will be a cash bar in the room, and hopefully a number artists that submitted their works to the auction in attendance. Check out scans of some of the pieces in the auction on the Big Wow website.
Here is Michael Lark's Frankenstein piece that he'll be submitting into the auction. It is a giant 19 x 24 inches. Bidding on this should be reason enough to fly in for the show!
Michael Lark Gallery Added the interior art to Lazarus Issue 8. I'll be adding some new covers and the interiors to Issue 6 soon.
Here is Michael Lark's Frankenstein piece that he'll be submitting into the auction. It is a giant 19 x 24 inches. Bidding on this should be reason enough to fly in for the show!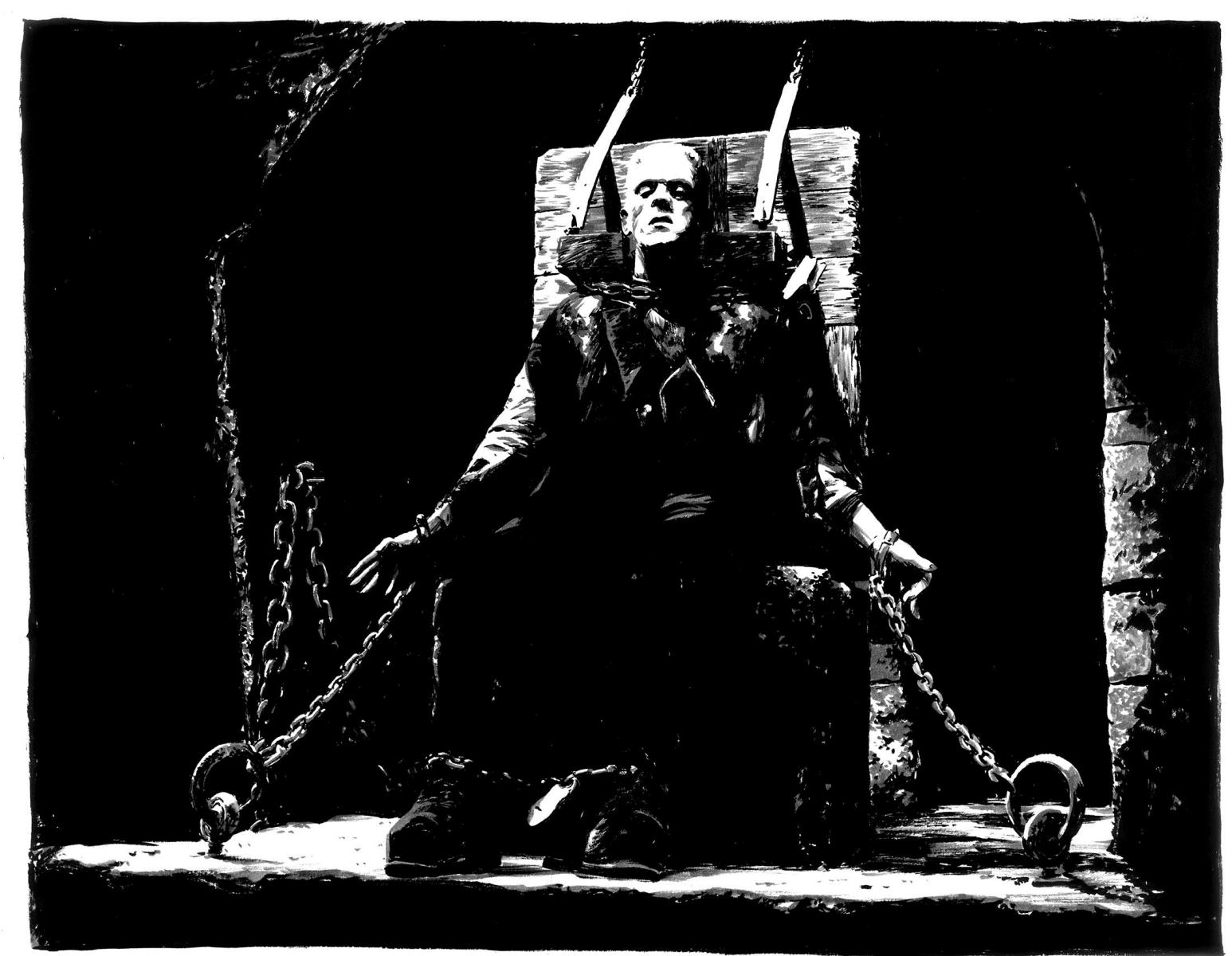 Thanks,
Mark Hay
If you are wanting to be the first to find out when new art arrives, or about convention information, you can find us on Facebook as Splash Page Comic Art and follow us on Twitter as @splashpageart