(Far..) Outside the artist's studio with Charlie Adlard:
Splash Page Comic Art: Artist Interview Series
My name is Mark Hay, and I am the owner of Splash Page Comic Art. I'm very fortunate to get to work with a great group of talented illustrators. Since I have been lucky enough to get to know some of the guys that I work with on a personal and professional level, I thought it might be fun to run an interview series with them.
I feel that I needed to warn you, the reader, that I am purposefully asking off-beat interview questions to Charlie. He has been interviewed numerous times since the Walking Dead show aired and it became a huge success, so rather than subject him and you all to the standard line of questioning that we've seen before, I thought it might be fun to cover some areas that people probably don't know about, or wouldn't dare/care to ask.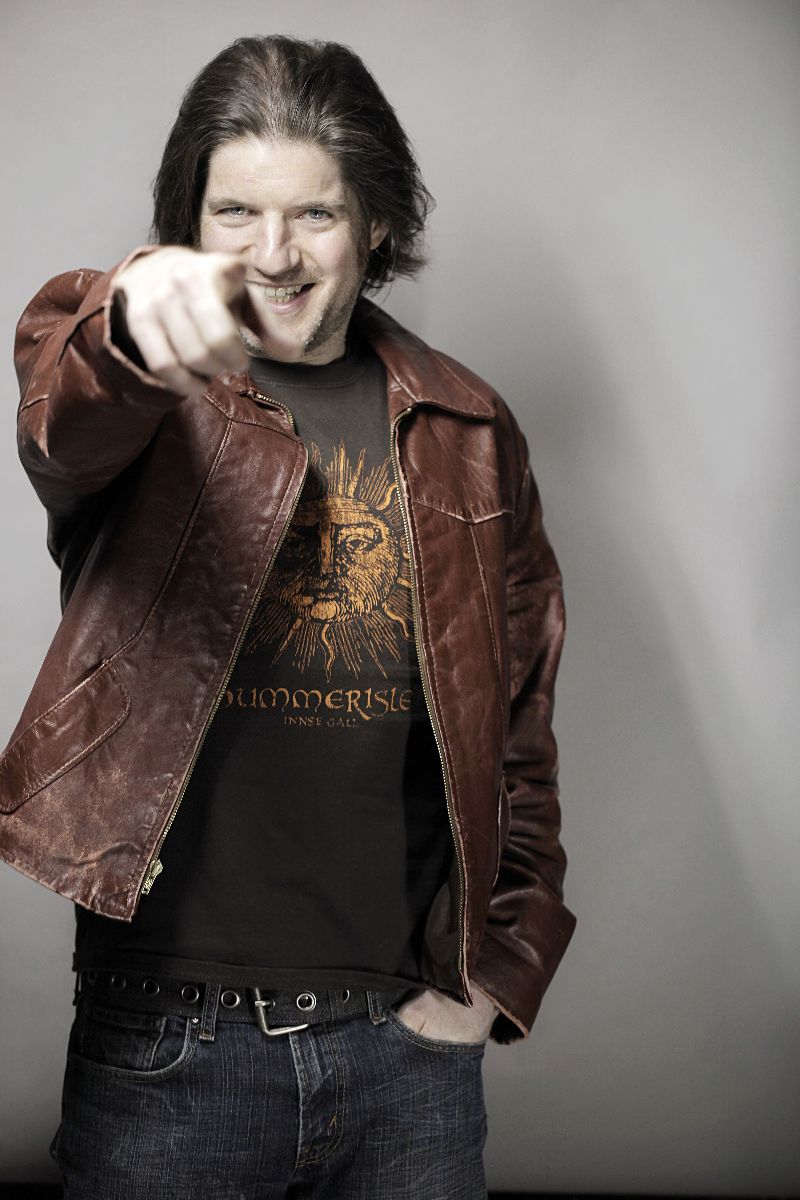 For those that don't know, you are a drummer in a prog rock band called Mine Power Cosmic. Who is in the band with you, and when/how did you all form? In addition to playing at a few comic book conventions have you all booked gigs or other somewhat regular live appearances?
Well, Mark, let's get one thing straight... We're not "just" a prog band - ugh:-) - we all have different musical backgrounds... Phil Winslade is definitely the most "proggy" of us and he plays guitar, Shane Chebsey, who's a small press publisher, convention organiser, and website runner, sings for us and is an indie kid at heart, there's myself, a wide musical taste - I'd like to think (!), and a math teacher called Kev on bass..
We got together for a Birmingham show in the UK a few years back, primarily as a covers band, with Liam Sharpe on vocals, but we really wanted to do our own stuff. The last thing I wanted to be was a typical 40 year old in a sad pub rock covers band - the nadir of most over 30 year old non pro musicians!
We haven't done that many gigs. It's hard to get together regularly in the first place, so we're always under-rehearsed.... especially since our music can get quite complicated! But we'd like to do non-comics do's eventually.
Are you aware that there are a vast number of comic book writers & artists that play musical instruments? I'm sure there are more, but in the Splash Page stable of artists, Michael Lark is an avid guitarist and Mitch Breitweiser used to play regularly in bands. Who are some of your artist/writer friends that play in bands or that you've jammed with?
Yeah - it's funny. Must be a creative channeling thing. I know plenty of other comic guys who play. Aside from the aforementioned band, I know Bisley and Jock play drums - Jock, I'm especially scared of, he played jazz funk in a touring band, so he must be searingly good - I know Frazier Irving plays bass, Barry Kitson is a guitarist...
When did you first learn the drums? Who is your all-time favorite drummer, and what band is he most known for?
I started when I was around 16. I was always jealous of friends of mine getting in school bands so I thought I'd give it a go. Luckily I could smash out a beat, so drums it was. A friend of mine asked me to drum for his band and within a few weeks we were playing a gig at the school... I could barely drum - it was awful.
My favourite drummer is easily Stuart Copeland of the Police. Possibly the most original drummer around and has a unique sound that's just him.
Suspend reality here for a moment: If your favorite living band asked your Mine Power Cosmic to tour with them and gave you the appropriate amount of revenue sharing to do so, would you quit being an illustrator for the Walking Dead, or pass on their generous offer?
To be honest - I probably wouldn't because I'm a better artist than drummer, eventually that would dawn on me on tour, and then it'd get just depressing... Plus I'd miss my wife and kids too much!
Now if MPC were headlining... :-)
We have previously discussed our shared appreciation for seeing live music; what are your top 3 favorite concerts that you've seen over the years?
Ooh, that's a tricky one. One of my earliest great gigs was the Waterboys at Hammersmith Palais - 2+ hours right at the front - amazing. Elvis Costello at Glastonbury, where I realised you didn't always have to jump around like a loon to make an incendiary live show. Elbow at the Birmingham Academy, again, like Costello, demonstrating the art of doing a great gig without resorting to the obvious, and great banter form singer to audience as well.
A special nod to a very recent gig where I saw Them Crooked Vultures... Dave Grohl, Josh Homme, and John Paul Jones in the same room!
Best two gigs I saw on TV but wished I was there... Prince in the round on the Lovesexy tour, and Janelle Monae at Glastonbury last year.
Are you able to see new episodes of the Walking Dead Television show in the UK, and do you have to see them online or wait for the DVD to come out?
I get sent DVDs before the show comes out. Some of them are rough cuts with missing special effects etc - which are quite interesting. I don't get the FX channel - where the show is shown over here - because I refuse to pay for my TV ( and anything that Rupert Murdock owns) where they have adverts... We have the BBC!
How has the success of the television show affected what your family or friends think of you being a comic book artist as your career choice?
Well, it's certainly made it easier to explain what I do to people. I don't really think it's effected my life that much. To friends and family, I've always been busy and "employed", even in the days before TWD, so, to them, it's always been a wise career choice. I live in a small rural town, so it's very far from the madness of the show etc - I think that makes me quite grounded. I like it that way.
Obviously the television show has a very talented cast in place, but which actor or actress do you feel has portrayed their character the most like how you see them in the comic?
I really do think the cast are uniformly great - there's no weak link so far. But, if I was pushed, I'd say that Glenn, Dale, and Lori are the closest to the printed page - character and look.
Who is your favorite character to draw in the comic? Is it also your favorite character as a reader of the book?
Well, I prefer to draw the (physically) older characters... Dale, Douglas etc. Their faces are just basically more interesting to render... More detail and lines - you can just have more fun with that.
As a reader - I'd go with Michonne and Andrea.
If you could make one change to a character or storyline in the Walking Dead comic, what would it be?
Let them all go and live in the desert.... Nice and easy to draw! :-)
Least favorite thing/character to sketch at convention?
"Rick killing a zombie in the foreground with 'x' doing something else behind him... Blah, blah, blah". I hate that type because they take forever to draw and you can never get a particularly good layout from a drawing like that. A lot of people just want as much detail as you can put in at the expense of mood and design.
Most favorite character to sketch at a convention?
Anything slightly different from the norm... something that can pique my interest. As much as I like drawing zombies (easy) and Rick and co...after sometimes 5/6 hours of it, you yearn for a challenge.
Have you learned any techniques or tips/tools of the trade from other artists recently, and if so, what was it?
Nothing recently to do with the physical act of drawing - I pretty much use and do the same thing I did ten, fifteen years ago. It works for me and I'm used to it.
I do pick up loads of tips etc on digital stuff though. Especially in the use of Photoshop. My friend Tim Daniel (the excellent designer who does the Image and Skybound websites) is a boundless source of information!
Are you a big movie and/or novel enthusiast, and do you have a certain genre that you like the most?
I'm a big movie fan. Novels - I'd like to read more, but just don't have the time or energy.
My love of the movies is just that, though... Movies... Genre-less. So long as it's good, it could be a drama, a horror, action... Anything.
There have been a few huge "WOW, I can't believe that just happened!" scenes in series thus far. For me they have been when the Governor cut Rick's hand off, Michonne's revenge on the Governor & Lori & baby getting killed. Is there one scene that is your favorite so far, and can we continue to expect any future "WOW" moments?
As great as those moments are, and they, like for you, are stand outs... I do get floored by some of Robert's dialogue sometimes. The "daddy stole my eyes" speech for instance and some of the dialogue between Carl and Rick after he was shot completely got me. Being a Dad myself with two children - one the same age as Carl - well, you can imagine what an effect that might have...
Paul Monroe appears to be a bad ass thus far, besting both Michonne & Abraham in combat, and his original art pages have sold extremely well. Without letting any cats out of the bag, can you give us any insight as what his role may be in the future?
Well, let's just say that he's not going to be just a fly by night character. Both Robert and I love him already and he's only been around for few issues.
There are some characters that are currently underutilized like Eugene, Gabriel, Rosita and Heath among others. Will we see any of these background characters make larger contributions to the group in the future? Is it reasonable to expect that all of characters play vital roles in the cast or is it necessary to have lesser ones to use as zombie food?
I think every character will get their moment. No one is designed in TWD to be just a "red shirt" - I think that's doing a disrespect to the characters. But in a cast so big - and getting bigger - some people have to take a back seat. Many writers say, and Robert does too, that the characters often write themselves, some just naturally rise to the top without there ever being the intention to do so.
Is there anything you would like to say about the current direction of the book that won't get us in trouble with Robert?
Hah! Expect something unexpected, but fantastic, as per usual... That's all I can say!
I wanted to thank Charlie for being my first victim, and for sharing his thoughts with us! Long err..... live the Walking Dead...