Outside the Artist's Studio with Goran Sudzuka
Splash Page Comic Art: Artist Interview Series: Goran Sudzuka
This is Mark Hay, owner of Splash Page Comic Art, and I am back with the second interview in my series of conversations with artists that I am fortunate to work with. Today's interview will be with Goran Sudzuka, a Croatian artist, whom I've had the pleasure of getting to spend time with personally, and gotten to know a bit. He is genuinely as nice a guy as you could want to meet. He is probably under many readers/collector's radar, but definitely deserves to be a household name. I thought that I would start this out with mentioning a little background about Goran:
In 1999 Goran Sudzuka's first US comic was co-creating "Outlaw Nation" with writer Jamie Delano. For that project he won the "Russ Manning" award for the most promising newcomer at the Eisner awards of 2001. Since then he has worked a number of other projects including Hellblazer Special: Lady Constantine, written by Andy Diggle, a French album for the series 'L'Histoire Secrete', regular fill-ins for Y the Last Man, a Hellblazer spin-off mini-series entitled Chas: The Knowledge, Issues 15 & 16 of Wolverine, and recently completed "ADD", a graphic novel written by Douglas Rushkoff, published by DC/Vertigo.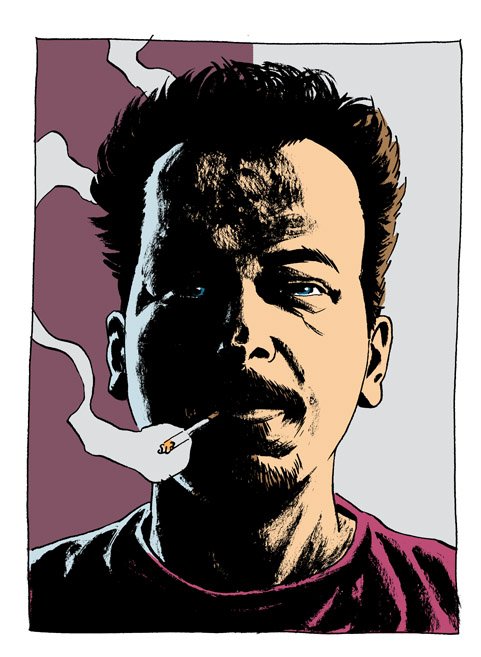 Questions:

Were there any hurdles you had to overcome as a Croatian artist in the late 1990's that perhaps other artists did not have to face?
No, not really. In fact, I'd say it was quite opposite. Following footsteps of Edvin Biukovic, Igor Kordey, Danijel Zezelj and Esad Ribic, at the time already present in American comics, being a Croatian artist was almost a recommendation for itself.
The only obstacle was technical, communication. But that was easily solved after I've finally embraced wonderful and dangerous world of the internet.

What artists would you say have influenced your style of illustration the most?
I grew up reading and loving lots of different comics. American, French, Italian, Spanish ...
John Buscema was certainly one of the most influential in my early years. Also, European classics like Jean Giraud Moebius, Hermann Huppen or Alfonso Font, although their influence is hardly visible in my drawings. But above all it would be Edvin Biukovic - influencing not only my style, but even more - understanding that drawing comics really is telling stories, not just trying to draw flashy panels without any connections between them.
Do you have a favorite project that you have worked on out of everything that you have done?

Sure. "Outlaw Nation" is my dearest, not just because it was my first American work, or the fact that I became a friend with Jamie Delano while I worked on it, but because it's a brave and ambitious book that I was co-creator. I am very glad and proud that we've managed to republish it in one big black and white collected edition.
Right after "Outlaw Nation" I'd put "Y - the Last Man" which was pure joy to work on. It doesn't happen often to get a chance to work on a great book that I've been already a fan as a reader.
You have worked primarily on non-superhero projects throughout your career, with much of them being with Vertigo. Has this been a direction that you have purposefully chosen? Meaning , is this the type of comic that you prefer to read yourself, or have these simply been the assignments that have been offered to you?
Bit of both. Most of my favorite American comics were published by Vertigo (or DC, prior to forming Vertigo) and this is where I started to work for the American market. Most of the time I've enjoyed working there and was offered enough of work, so I didn't actively look for work elsewhere. That being said, I don't have anything against good superhero books and I didn't think twice when I was offered to work on Wolverine with Jason Aaron.
Is there a particular project, character, writer or other artist that you have wanted to work on/with that you haven't had the opportunity?
Of course. There are lots of great writers I hope I'll get a chance to work with - Ed Brubaker and Garth Ennis, before everybody else. Well, obviously, Alan Moore, too, but that'll never happen. But I would also love to work again with Delano, Vaughn or Aaron.
If I have a great writer on team with me, I don't really care what character or project I'm working on.
What is your typical work day like? Do you listen to music, run TV in the background or have anything else going on to stimulate your creativity/keep you awake? What's your favorite band or type of music?
Do you draw during a regular daily schedule for example 9am to 6pm, or do you start work late at night and draw into the next morning like many artists do?
It changes through the years.
I used to be one of the late-nighters, but little by little I started working during the day. Still, I'm not a morning person and even if I wake up at 8 o'clock, i won't start working before 10.
I need lots of coffee and cigarettes while I work and no pressure of breaking up the concentration, once I start. I have to have some background noise while I work. Usually it's radio, but sometimes I'd play some music of my choice. Also I love to have a TV on, but it has to be some 'talking heads' shows, not movies, or, God forbid, MTV. I guess I need people talking even if I'm only half-listening, to compensate being alone while working.
As for the music, I grew up on post punk, new wave music and some of my favorite bands are from that period. Bands like Joy Division, The Smiths, Bauhaus ... I love other kinds of music, too, but even with new bands I go for the similar feeling, so Arcade Fire or The National are one of my favorites.
Would you talk a little about the pens, brushes, ink and any other artist tools you use on a regular basis?
Sure. Brush Windsor & Newton, series 7, size 3 is my crucial tool for inking. Goran Parlov introduced me to it, while we were working on Outlaw Nation and since then, I'm recommending it to everyone who asks. I also use some old pens, don't even know which they are. I have a stash from long time ago and they always served me well. For straight lines I'm using Uni or Faber -Castell markers of various thickness. For penciling it's also Faber-Castell blue pencils and Tiki Rotring eraser.
Do you have any hobbies that you do regularly, either for fun, or that tie into who you are as an artist?
Nothing particular. I do watch movies and read comics, so I guess that ties in, but I wouldn't call it hobby.
I don't do sports, I don't gamble, I don't play any instruments. I love to go out to bars with friends and drink. Does that count as a hobby?
I know that you have attended a number of conventions as a guest, both in the US and abroad. What's the funniest or most interesting thing that has happened to you at a show, or in the evenings after the cons' close?
Ugh. I think things that happened in the evenings are better left untold in public! : )
But there was one funny situation during one of the New York Cons couple of years ago. I was in toilet at the convention center and a huge guy dressed as Batman came to the urinal next to mine. I sooo wanted to see if he took off his gloves and whether he had a zipper on his pants or he had to take it all down, but I dared not to look. He was really big and wearing that costume made him look intimidating and I didn't wanted get myself in a situation where he's saying to me "What're you looking at?"
Is there anything you would like to share about yourself that most of your fans or peers in the industry might not know about you?
Well, ever since that scene at the toilet I like to dress up as Batman and go to public toilets trying to intimidate people, but I utterly fail because I'm not built as Batman so I end up being mocked at and, sometimes, pissed at! : )
Well as you can see Goran has a sense of humor in addition to being a talented artist! :) Stay tuned to the San Diego Comic Con comic company announcements to find out what new creator-owned project that Goran will be working on next!