Sean Phillips The Walking Dead Issue 100 Original Cover Art Blind Auction
June 29 - July 14, 2012
Blind Auction for Sean Phillips' Original Painted Cover art to The Walking Dead Issue 100
After receiving numerous requests for this art, we've decided to give every interested party an opportunity to win the cover. This blind auction will run beginning June 29th and end at 5PM on Saturday night, July 14th.
This auction is for the original painted cover art for Issue 100 of The Walking Dead by Sean Phillips. Sean's cover is "Cover E" out of the 8 covers printed for this historic event.
Sean painted this original using acrylics on a piece of sturdy 15 x 20" illustration board. The actual image size is 12 x 18" as there is an inch or so white border around the artwork making it easy to frame.
The image features Rick, Michonne & Carl, with weapons drawn, surrounded by a horde hungry zombies.
The time zone we will be using is Pacific (California time).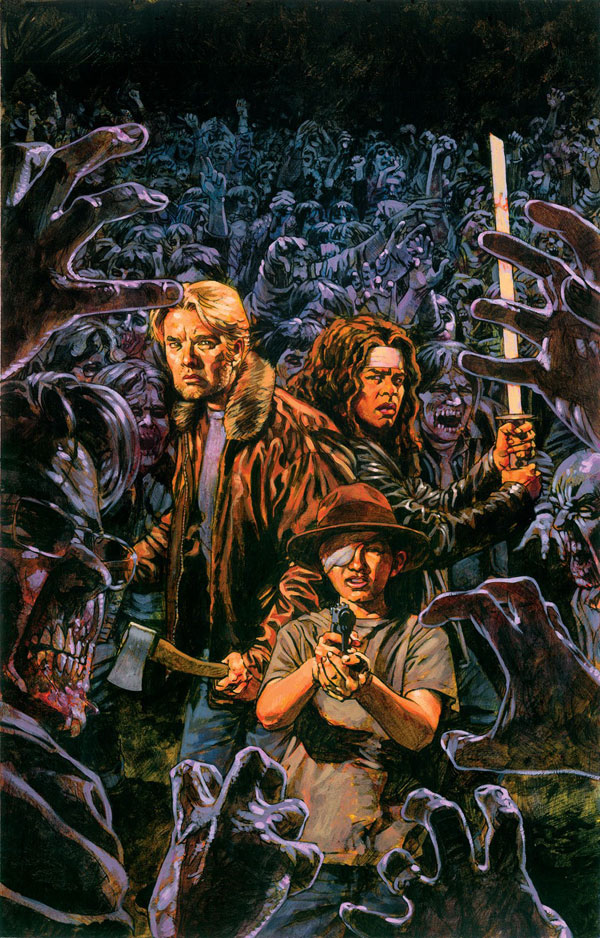 Bid Submissions:
Each interested party may submit one email bid with their blind offer through the Blind Auction window, or in person at the Splash Page Comic Art Booth #4400 at the San Diego Comic Con.
Bids may be submitted here: http://www.splashpageart.com/PhillipsWalkingDeadAuction.asp
We will have the art on display at our booth throughout the San Diego convention so if you are in attendance, please come by and take a look at it.
No one will be given any other offer attempts or have any knowledge of what the current high bid is. The person with the highest offer as of 5PM on July 14th, 2012 will win the Sean Phillips Walking Dead Issue 100 original cover art.
The minimum bid for the auction is $3000. A shipping charge of $38 in the US, and $60 for international will be added to the final bid.
If the winner is in attendance at the San Diego Comic Con, they will be asked for immediate payment in full and the art will be turned over to them at that time. If the winner was not in attendance, payment will be required by July 16, 2012 and the art will be shipped out on Monday, July 23, 2012.
Thanks, and good luck.
Mark Hay, owner of Splash Page Comic Art & Sean's Original Art Dealer, will be running the auction.